From James K. Nolt
God: "Great is the LORD, and greatly to be praised in the city of our God, in the mountain of his holiness" (Psalm 48:1). Visiting sites in Israel is a good opportunity to worship God, who chose this place to perform unique acts. It is also a time to mourn how His people rejected Him. "O Jerusalem, Jerusalem, . . . how often would I have gathered thy children together, even as a hen gathereth her chickens under her wings, and ye would not!" (Matthew 23:37).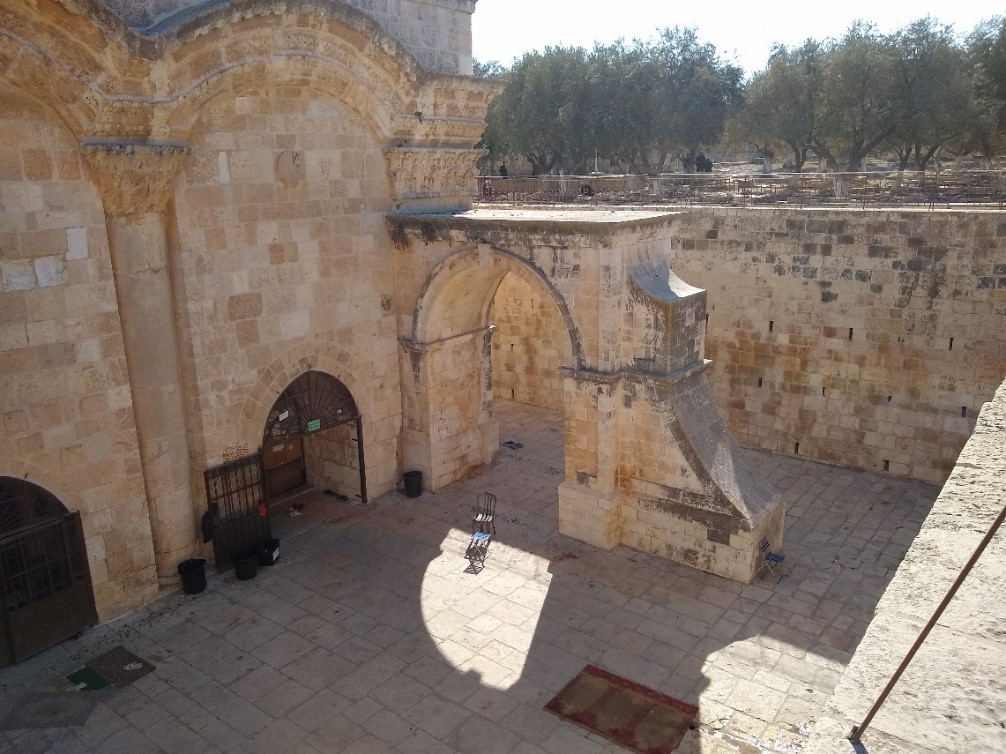 Stones: Big stones, little stones, square stones, round stones. We saw stones "from Dan even to Beersheba." Stones to build walls, to build pavements, and to build idols and temples. Empire builders destroyed the stones that others had arranged, and then they built other structures, which in turn others destroyed. After they had crossed the Jordan River, God told Joshua to build a stone memorial, so their children would ask, "What mean these stones?" (Joshua 4:21). As we viewed many ruins, we likewise pondered this question.
"O where are kings and empires now, Of old that went and came?
But Lord, Thy Church is praying yet, A thousand years the same."
The ruins of Capernaum remind us of Jesus' lament, "And thou, Capernaum, which art exalted unto heaven, shalt be brought down to hell: for if the mighty works, which have been done in thee, had been done in Sodom, it would have remained until this day" (Matthew 11:23). Abraham, in contrast, "looked for a city which hath foundations, whose builder and maker is God" (Hebrews 11:10).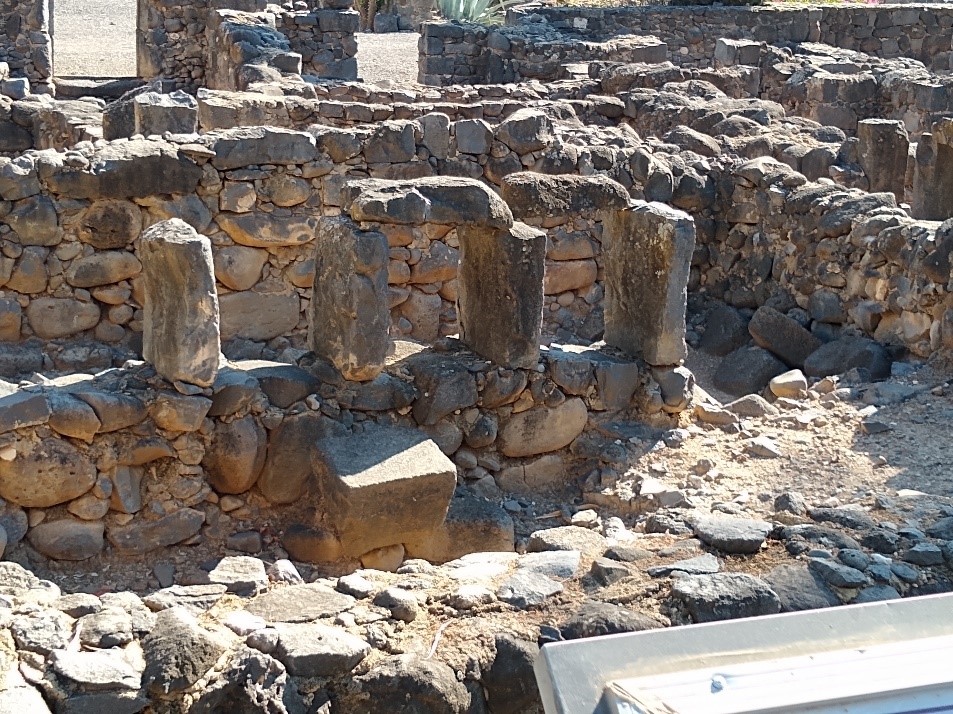 People: Stones help us understand the past and how it shaped our lives, but contacts with living people are more memorable. People memories begin with the fine group of thirteen fellow travelers. How many times we counted, "1, 2, 3, . . . 13." This reminded me of the dozens of times I counted students on school trips to be sure everyone was there.
There were some negative experiences, such as aggressive salesmen shoving their wares into our hands and demanding that we give an offer, but the majority were positive. And some were superlative, such as a supper in Bethlehem with Palestinian Christians (and singing "How Great Thou Art" in four languages; see Nov. 11 report), and evening Sabbath worship and supper with a Jewish family two evenings later. The modest dress of conservative Jewish women was commendable.
Not only were we watching people, but people were watching us. "Are you Amish?" "Are you Mennonite?" We heard these questions various times or overheard people discussing us. We hope we gave a good Christian witness.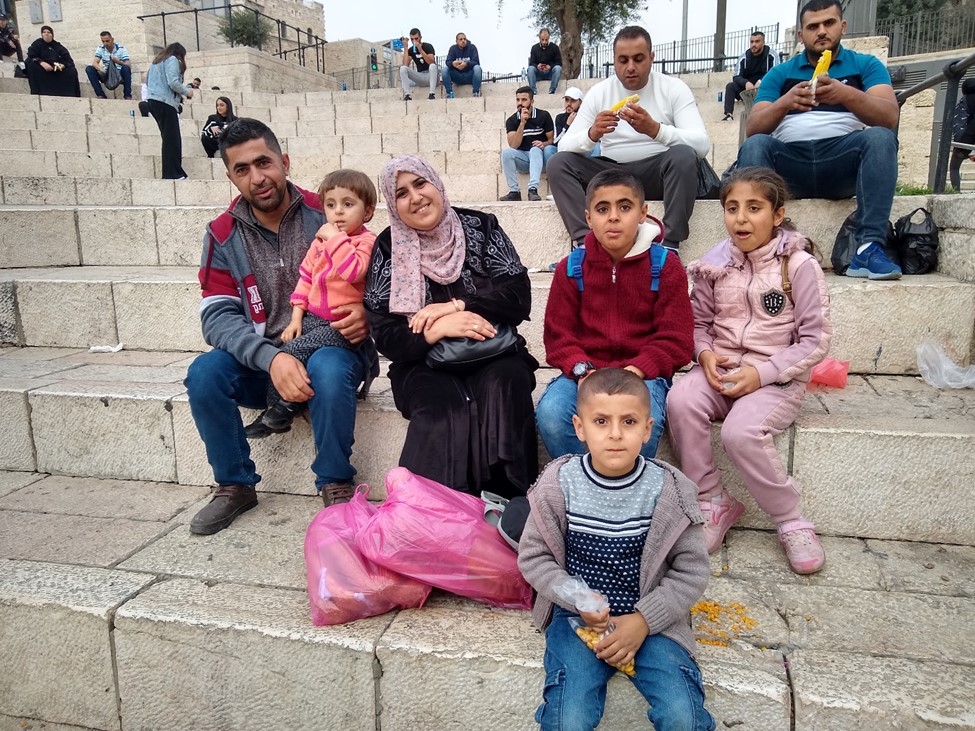 Singing: "God is a Spirit: and they that worship him must worship him in spirit and in truth" (John 4:24). We can worship God anywhere, but it was a blessing to sing "O Little Town of Bethlehem" and other songs about Christ's Birth in Bethlehem; to sing "Tis Midnight" and "Alas, and Did My Savior Bleed," etc. about His suffering and death in the Garden of Gethsemane; and to sing "Lift Your Glad Voices," "Up from the Grave," and "Alive Forevermore," etc. as we visited a possible site of the Resurrection. What shall we sing in Nazareth? Is there any song that uniquely fits there? Yes. "I stand amazed in the presence of Jesus the Nazarene." As we looked across the Kidron Valley at the Eastern Gate, we sang, "I will meet you in the morning, just inside the Eastern Gate . . ."
The Jewish family demonstrated that singing is an important part of their Sabbath routine by their songs at the beginning and end of their meal. Later after we visitors had sung the first two stanzas of "How Great Thou Art," extolling our Creator God, they welcomed us to sing a distinctly Christian stanza. On the last day, Sunday, our guide sang "Our Father" (the Lord's Prayer) for us in Arabic.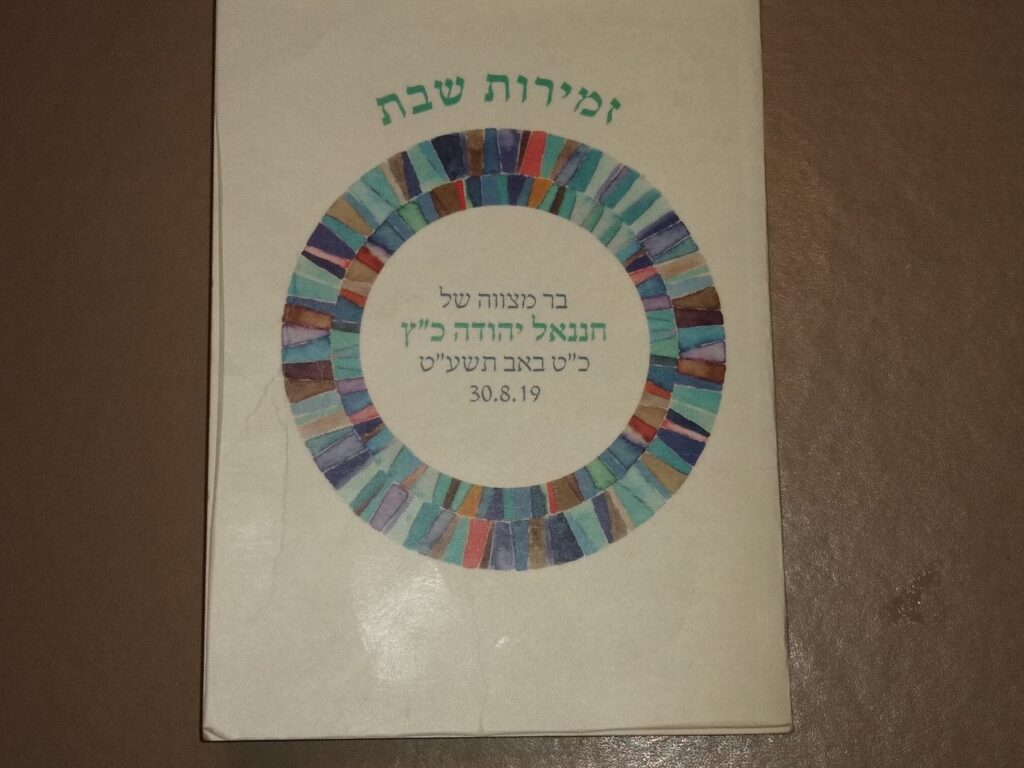 Home Again, November 15
With mixed feelings we boarded the B-787 late Sunday evening for our approximately 11 ½ hour flight from Tel-Aviv. We landed in Newark, New Jersey, shortly after 4:00 AM, grateful for a safe and enjoyable trip.
Later that morning, Sarah and I attended the funeral of her uncle. And so, the routines of life and death continue, at home and abroad. A mountaintop experience should renew us for the challenges before us, encourage us to be good Christian stewards of life's opportunities, and help prepare us for death. Thank you, God, for the blessing of this trip; may You be honored in all things!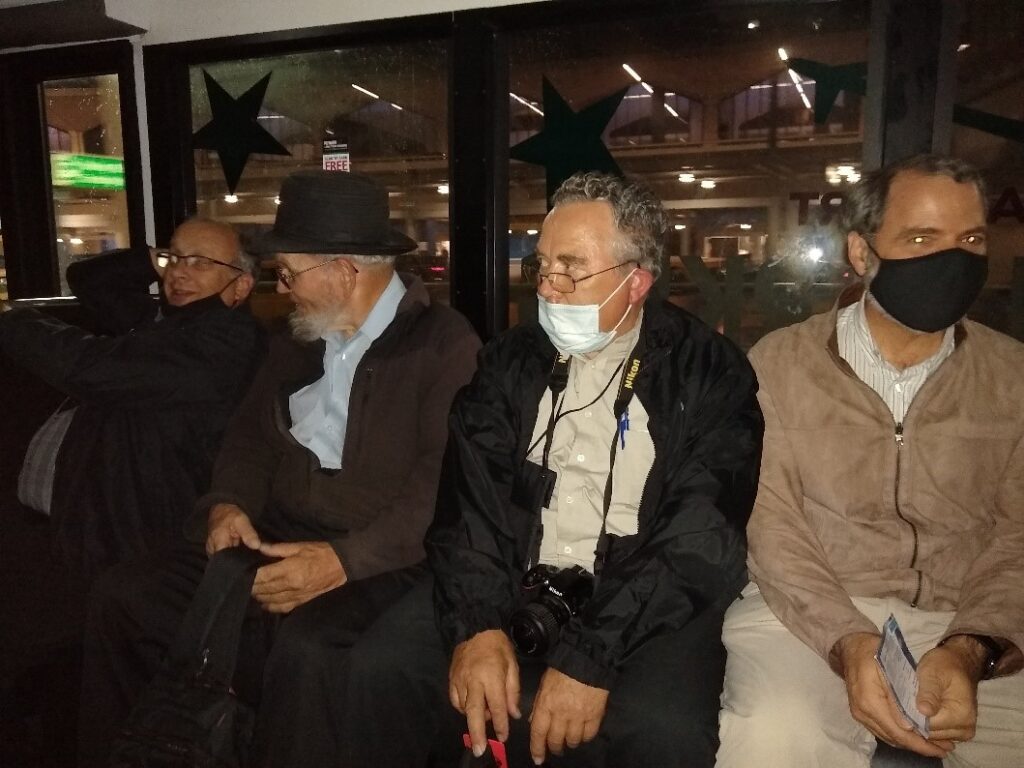 Weary travelers on the Newark shuttle bus