This morning we awoke refreshed to a sunny day in Arad, Israel. It seemed quite a few of us took a short "break" from sleeping at about 1am for an hour or two, due to a bit of time zone adjustment, but everyone seems to be feeling good and refreshed.
Our Sabbath (Saturday) breakfast at the Inbar Hotel was not the typical American eggs, bacon and toast, instead it was salad, cheese, breads and various others items, pretty well described by Amos Hoover as, "I don't know exactly what I have."
At breakfast our covid PCR tests notices started coming back and our guide, Sofian, worked through typing our passport numbers to check if we were all negative and…great, we were! No extended isolation needed.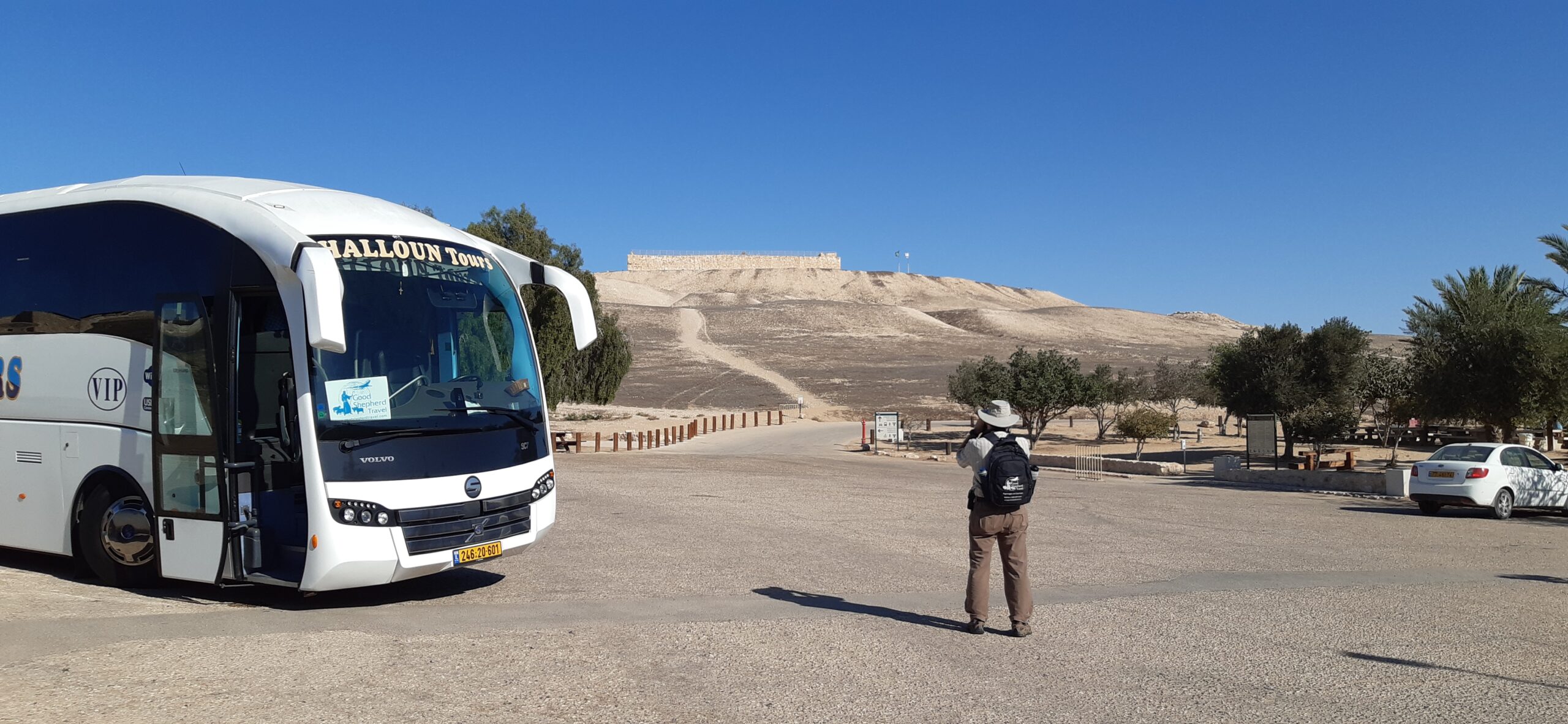 Our first stop was tel Arad (tel designating an ancient city ruins) and there we saw a well preserved ancient temple to Yahweh which was buried with dirt, possibly to hide it during the time when Hezekiah was destroying temples other than the one in Jerusalem. It was interesting that the altar was the same dimensions as other Yahweh altars. We also saw a home and city walls from the time of the Caananites. A nice breeze kept us cool and blew some hats off heads.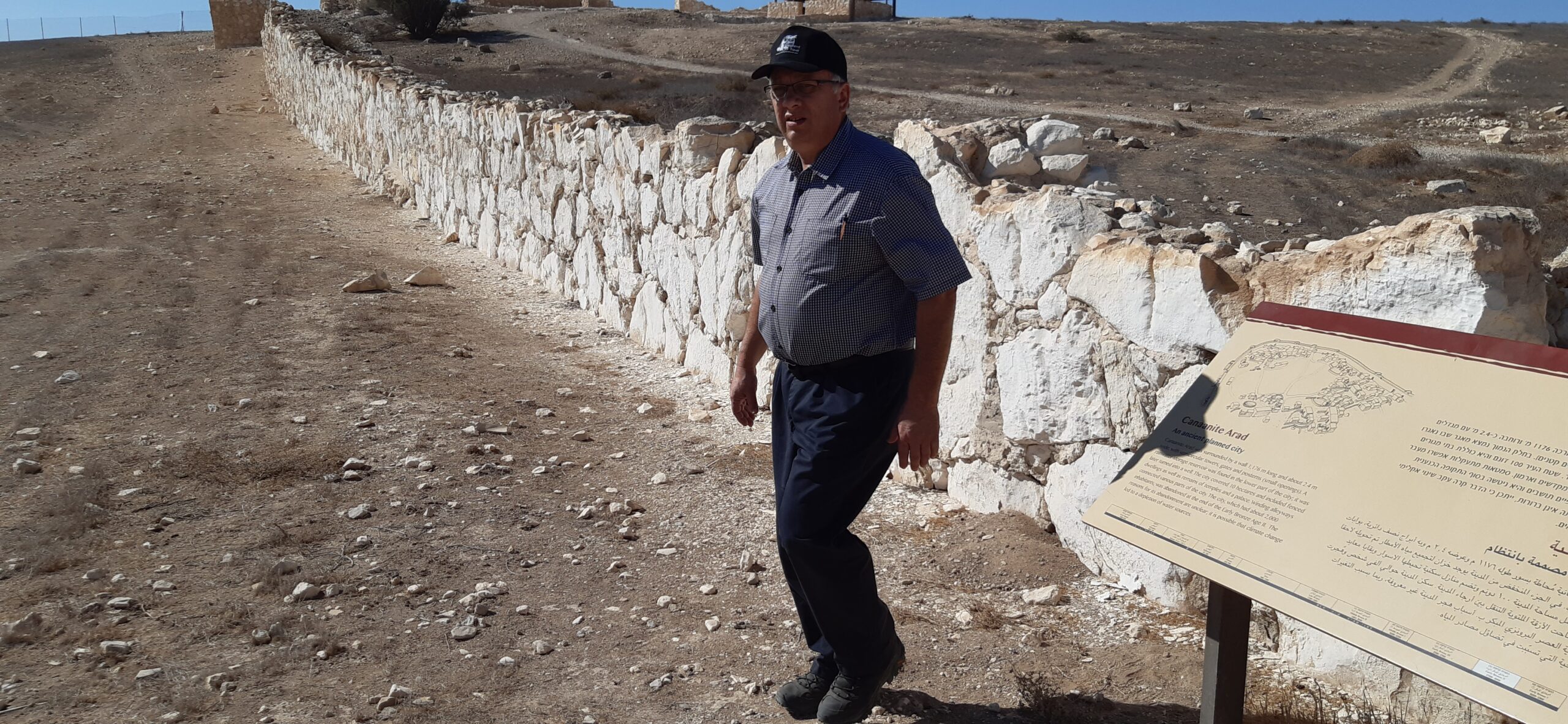 Next we headed to Be'er Sheva. Andrew reminded us that the borders of ancient Israel were from Dan in the north to Be'er Sheva in the south. Here we were able to see the ancient city gate location, main streets, homes & a deep & very large cistern. We paused in the shade to sing, say the Shema and learn some Hebrew from our guide. Good morning is "Boker Tov" is the one I can remember as I'm writing, but some others learned more.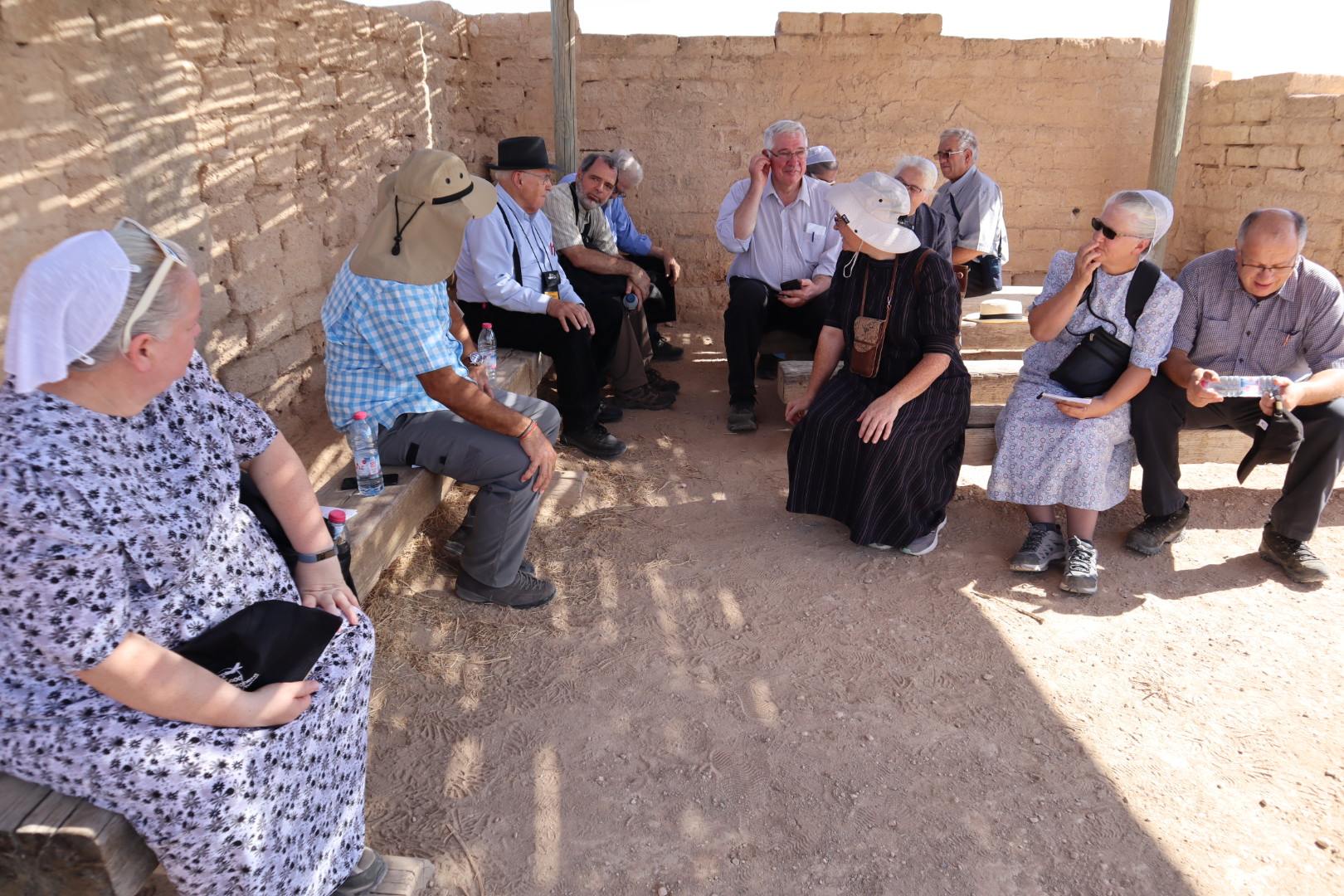 As we were driving to our next stop we noticed something shining in the distance that got our attention. (we could actually see it from tel Arad) This turned out to be the fascinating Ashalim Power Station which uses 52,000 mirrors to focus the sun's light on a tower which can generate electricity from the tremendous heat.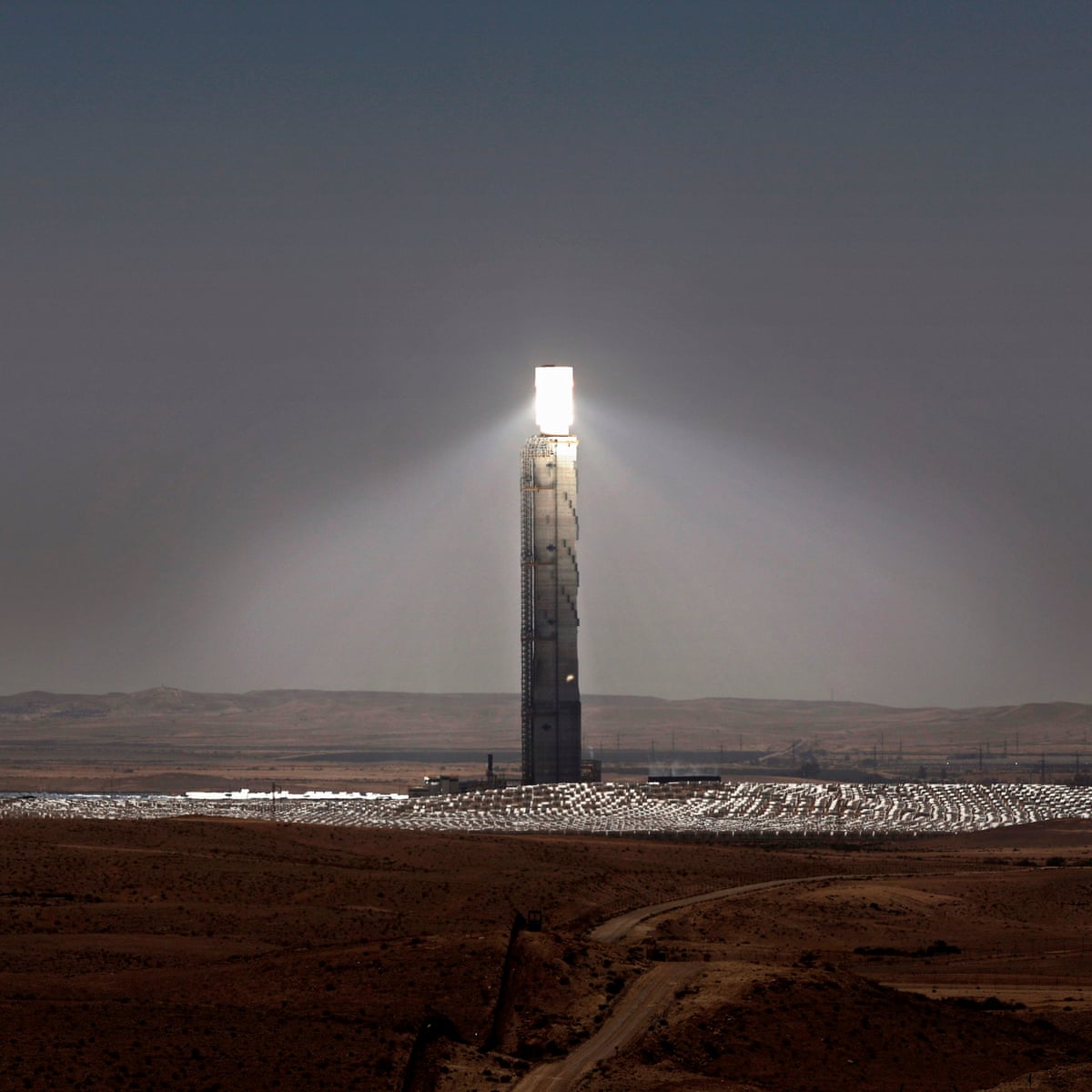 We finished the day by doing a rigorous hike at Ein Advat (also known as Wadi Zin). Andrew noted that the Wilderness of Zin is associated with the "water from the rock" (Numbers 27:14) The hike included beauty: canyon rock formations, water falls, streams & water pools.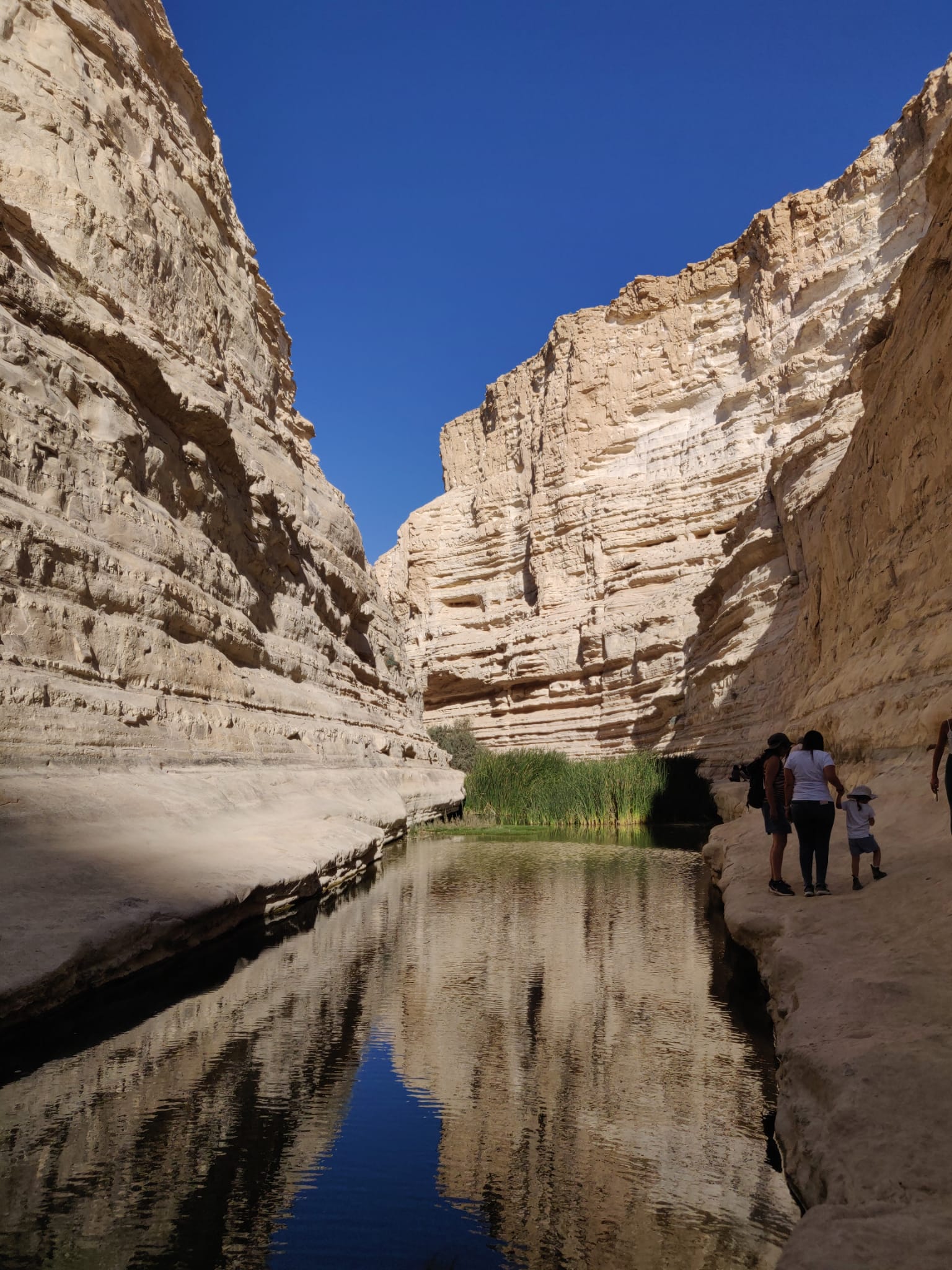 It also included a challenging hike & climb for a group that are not youngsters anymore. The anticipated steep climb, steps and even ladders at points dissuaded some of the group from continuing, but Amos, James, Neal, Lester, Matt, Andrew & Linda climbed the whole way to the end. Our guide thinks that Amos, at 88 years old, takes the prize for the oldest hiker he knows to complete it. When Amos was asked what the hardship level from was on a scale of 1 to 10 he put it at about a 9.5. Andrew treated those who made it to the end with a Magnum ice-cream bar.